About
Allied Academies invites all the participants from all over the world to attend "2nd Annual Conference on Antimicrobials and Drug Resistance" during September 24-25, 2018 in Montreal, Canada ,which includes prompt Keynote Presentations, Special Sessions, Workshops, Symposiums, Oral talks, Poster Presentations and Exhibitions.
Antimicrobes 2018 is one of the most important microbiology conferences that bring together clinicians, researchers, and other industry professionals. The scientific program will range from "the world of microbes" to "the science of food", to clinical, industrial, and environmental microbiology and pharmaceutical drugs. This will allow reflecting on the microbiology at 360 degrees, all-round by expanding the knowledge of everyone.
Allied Academies every year hosts interdisciplinary international conferences worldwide on cutting-edge basic and applied research in life sciences, Pharma, medicine, healthcare and nursing delivered by the best talents in industry and academia. Our conferences are oriented to drive the scientific community at large, facilitating access to the newest technical and scientific achievements and to shape future research directions through the publication of applied and theoretical research findings of the highest quality.
Allied Academic Publication is an amalgamation of several esteemed academic and scientific associations known for promoting scientific temperament. Established in the year 1997, Andrew John Publishing Group is a specialized Medical publisher that operates in collaboration with the association and societies. This publishing house has been built on the base of esteemed academic and research institutions including The College of Audiologists and Speech Language Pathologists of Ontario(CASLPO), The Association for Public Safety Communications Officials of Canada (APCO), The Canadian Vascular Access Association (CVAA), The Canadian Society of Internal Medicine (CSIM), The Canadian Hard of Hearing Association (CHHA), Sonography Canada, Canadian Association of Pathologists (CAP-ACP) and The Canadian Association of Neurophysiologic Monitoring (CANM).
Sessions/Tracks
Antimicrobials
An antimicrobial is an agent that kills microorganisms or inhibits their growth. They are classified according to their mode of action on specific microorganism .Depending on the range of bacterial species susceptible to these agents antibacterials are classified as broad spectrum, intermediate-spectrum, or narrow- spectrum. Non–pharmaceuticals antimicrobial gives a wide range of chemical and natural compounds used as antimicrobials. Organic acids are used widely as antimicrobials in food products. The Immunology of host defence peptides gives diverse actions of HDPs.The use and misuse of antimicrobial drugs accelerates the emergence of drug-resistant strains. Post-antibiotic era refers to a time when a number of infectious diseases will be unresponsive to antibiotic treatments.
Ø Classification of antimicrobial agents
Ø Mode of action and Spectrum of activity
Ø Non-pharmaceutical antimicrobials
Ø Immunology of host defence peptides
Ø A post-antibiotic Era
Ø Mechanism of action of antiviral drugs
Ø Genetic Engineering
Ø Increased human morbidity and mortality
Ø Antibiotics
Antimicrobial Resistance
Multidrug resistant (MDR) are those microbes which are resistant to multiple antimicrobials .Resistant microorganisms (compiling fungi, bacteria, parasites and viruses) have the ability to withstand effects of antimicrobial drugs. Irrational use of antimicrobial drugs rapidify the origin of drug-resistant strains. Poor infection control practices, inappropriate food-handling and inadequate sanitary conditions leads to further spread of antimicrobial resistance. Diagnosis of antimicrobial drug resistance is evaluated by lab tests that makes it difficult for the the isolated microbes to grow and survive in the presence of the drug. Antimicrobial chemotherapy refers to the use of antimicrobial medicines to treat infection. Microbial immunology refers to the interrelationship among infectious agents and their hosts, with microbial and viral pathogenesis and the immunological host response to infections.
Ø Multidrug resistant bacteria
Ø Microbial resistant strategies
Ø Molecular basis for antimicrobial resistance
Ø Virulence factors
Ø Detecting antimicrobial resistance
Ø Combating Antimicrobial resistant infections
Ø Effect on chemotherapy
Ø Mechanism of actions
Antibacterial and antiviral drugs
An antimicrobial agents are those that kills or inhibits the growth of microorganism, similarly antibacterials are effective against bacteria.. According to different groups of microorganism the action of antimicrobial medicine can be seen. Antimicrobial drugs by its mechanism of action help in treatment as well as prevention from bacterial infection .Antibiotic prophylaxis refers to the prevention of infection complications using antimicrobial therapy . Antibacterials are used to treat bacterial infections. The hazards to humans and other animals from antibacterials is generally less if compared. However, continuous use of certain antibacterials gives side effects like it decrease the number of gut flora, which may have a bad impact on health etc.Antiviral drugs are the medication used particularly for treating viral infections. Mostly antiviral drug design is to identify targets like viral proteins, or its parts, that can be disabled. These "targets" should be as unlike parts of proteins in humans as possible, to reduce the likelihood of various possible side effects. The targets should also be common among different species of virus in the same family or across many strains of a virus, so a single drug can have broad effectiveness through its mechanism of action. Almost all anti-microbials, including anti-virals, are subject to drug resistance as these pathogenic organism mutate as time travel, resulting less susceptible to the treatment therefore designing safe and effective antiviral drugs is difficult, because viruses always use the host's cells to replicate and increase their count.
Ø Classification of antibacterials
Ø Use of antibacterial agents
Ø Side effects of antibacterials
Ø Antibiotic prophylaxis
Ø Antiviral drug designing
Ø Anti-viral targeting
Ø Implications for Treatment and Clinical Practice
Ø Medical uses
Antibiotic overuse: Worsen AMR problem
Visit and improper utilization of antibiotics can bring about microscopic organisms or different microorganisms to change so anti-infection agents don't conflict with them. This is called bacterial resistance or antibiotic resistance. Treating these safe microscopic organisms requires higher measurements of pharmaceutical or more grounded antibiotics. As a result of antibiotic abuse, certain microorganisms have turned out to be impervious to even the most effective anti-microbial accessible today. Antimicrobial resistance is a global public health challenge, which has accelerated by the overuse of antibiotics worldwide. Increased antimicrobial resistance is the cause of severe infections, complications, longer hospital stays and increased mortality. Overprescribing of antibiotics is associated with an increased risk of adverse effects, more frequent re-attendance and increased medicalization of self-limiting conditions. Antibiotic overprescribing is a particular problem in primary care, where viruses cause most infections
Ø Antibiotic resistance
Ø Primary care
Ø Point-of-care tests
Ø Rational use of antibiotics
Ø Strategies
Antimicrobial Chemotherapy
Antimicrobial chemotherapy is the clinical application of antimicrobial agents to treat diseases of infection. Three forms of antimicrobial chemotherapy: Antibacterial chemotherapy, the use of antibacterial drugs (antibiotics) to treat bacterial infection, anti-fungal chemotherapy and anti-viral chemotherapy.Resistance may involve decreased entry of the drug, changes in the receptor (target) of the drug, or metabolic inactivation of the drug impacts antimicrobial chemotherapy. Combinations of antibiotics may act synergistically-producing an effect stronger than the sum of the effects of the two drugs alone or antagonistically, if one agent inhibits the effect of the other.
Ø Clinical Trials
Ø Antimicrobial treatment
Ø Selective antimicrobial activity
Ø Activity of bacteriophages
Ø New approaches to improving antimicrobial chemotherapy
Antimicrobial stewardship
Antimicrobial stewardship deals with well organised program that promotes the judicious use of antimicrobials (including antibiotics) , reduces microbial resistance, improves patient outcomes and decreases the spread of infections caused by multidrug-resistant organisms. Antimicrobial Stewardship influences to do safe and appropriate use of antimicrobials i.e rationalise use of Antibiotic. Basically it emphasis more on Safety and Quality. It has research priorities like a clear research motive highlighting the most important current knowledge gaps and new data to improve future containment initiatives.
Ø Rationalise Antibiotic use
Ø Safety and Quality
Ø Elements of program
Ø Research priorities and future directions
Antimicrobial Agents in Veterinary Medicine
The use of antimicrobials in animals are closely parallels to the discovery and usage in humans. Like Sulfonamide was the first antimicrobial to be introduced to food animal medicine. Antibiotics are given to food animals for growth promotion and prophylactic medication. In other hand ,epidemiology of antimicrobial-resistant microorganisms at the human–animal interface involves complex and largely unpredictable systems that include transmission routes of resistant bacteria as well as resistance genes and the impact of antimicrobial selective pressures in several reservoir. There is an environmental impact of Antibiotics and their metabolites (degradation products) through antibiotic-laden manure or direct deposition of manure by grazing animals. . Antibiotics that reach the environment ,only that proportion will remain biologically active. Low subtherapeutic concentrations of antibiotics that accumulate over time may have profound effects on some ecosystems
Ø Antimicrobial usage in animals
Ø Antimicrobial use in animal food
Ø Veterinary antibiotics in soil, water and other ecosystems
Ø Spread of antibiotic resistant bacteria from animals to humans
Ø Environmental impact of antimicrobials in animals
Antimicrobial agents in food and agriculture
Antimicrobial agents has been used in veterinary medicine and animal husbandry veterinary medicine which has resulted in healthier and more productive farm animals, which ensures the health and welfare of both animals and humans. There are several benefits of food processing which include toxin removal, preservation, easing marketing and distribution tasks, and increasing food consistency and makes many kinds of foods safe to eat by de-activating spoilage and pathogenic micro-organisms shelf life of food product and ensure food saftey. As part of process control activities in the food manufacturing plant, antimicrobial agents have been successfully applied, both in the product formulation stage as direct food additives designed to reduce or eradicate pathogens and benificial in antimicrobial proteins. Apart from this it has various uses in plant agriculture.
Ø Applications in food packaging and processing systems
Ø Formulating Food safety
Ø Applications as Food additives
Ø Probiotics and antimicrobial proteins
Ø Uses in plant agriculture
Microbial Pathogenesis
Microbial Pathogenesis mainly deals with the molecular and cellular mechanisms of infectious diseases. It covers microbiology, host-pathogen connection and immunology related to infectious agents, including microorganisms, growths, infections and protozoa. Microbial pathogens incorporate microscopic organisms, infections, growths, and parasites and together record for a huge rate of intense and unending human illnesses. To comprehension the instruments by which different pathogens cause human malady, research in microbial pathogenesis likewise addresses systems of antimicrobial resistance and the advancement of new antimicrobial specialists and immunizations. Host-microorganism associations require an interdisciplinary methodology, including microbiology, genomics, informatics, molecular and cell science, natural chemistry, immunology, and the study of disease transmission.
Ø Biology of microbial pathogen
Ø Genetics Determinants of Bacterial pathogenicity
Ø Regulation of Virulence Factor
Ø Food borne microbial pathogens
Ø Pathogenic Fungus
Antibiotics for Emerging and Re-Emerging Disease
Antibiotics were the main viable treatment for skin inflammation. They are the most generally endorsed operators and are demonstrated for serious incendiary skin break out, broad trunk skin break out and direct facial skin inflammation not reacting to topical treatments. Reaction is variable; female patients with facial skin break out react more positively than male patients with stamped seborrhea and skin acne. Systemic antibiotics ought to be endorsed in a satisfactory measurement and the recurrence and span proceeded for whatever length of time that they are considered to work. Patients with skin inflammation are frequently regarded with numerous antibiotic agents and as a result, their vegetation is presented to a critical particular weight for resistance improvement.
Ø Resistance and re-emerging theories
Ø Medication procedures
Ø Molecular mechanism of resistance
Ø New drugs for emerging diseases
Antimicrobial use in Pharmaceutical industries
Industrial antimicrobial agents are the chemicals used to prevent the adverse consequences of microbiological activity in various processes and products formation. They are mainly targeted against mold, bacteria, and fungi. There is wide range of Applications antimicrobial agents in industry. Bioremediation is a "treatment that uses naturally occurring organisms to break down intoxicated substances into less toxic or non toxic substances .Likewise, in industrial fermentation there is intentional use of microorganisms such as bacteria and fungi to make products useful to humans. Fermented products though have applications as food but it is also used in general industry .Along with this there are other application of microbes-powerful cleaners, agricultural improvers.
Ø Industrial use of antimicrobial agents
Ø Testing of microbial enzymes
Ø Bioremediation
Ø Industrial fermentation of microbes
Ø Various applications of Microbes
Global Antibacterial vaccination market
Global antibacterial vaccination market is expected to experience healthy growth across the forecast period due to rising profits for several classes of drugs. Vaccines will still be the leading revenue-generating drugs in the market in 2022, despite the influx of new protein synthesis inhibitors and the release of several new cell-wall synthesis inhibitors.
Ø Revenue Forecast by Mechanism of Action
Ø Overall Market Size
Ø Analyzes of antibacterial pipeline and Assessment of Key Pipeline Products
Ø Trends in co-development and licensing deals relating to antibacterial products.
Ø Drugs used in the prophylaxis and treatment of bacterial infections.
Antibiotics: Technologies, Global Markets and Opportunities
The worldwide foundational antibiotics market was esteemed at $39.6 billion in 2013 and is relied upon to reach $41.2 billion by 2018, at a CAGR of 0.8%. Since, 2005 this market apparently grows at a yearly rate of 6.6% until 2011. There are many organizations manufacturing antibiotics nowadays and there are numerous different antibiotics present in the market, for example, aminoglycoside antibiotics and it covers around 79% of the worldwide demand. In addition, alternate antibiotics, for example, penicillin have 8%, tetracyclines 4%, erythromycin 7%, streptomycin 1% and chloramnphenicol has 1 % market.
Ø Global antibiotics market
Ø Antibiotics market USA
Ø Antibiotics market UK
Ø Antibiotics market America
Public health
Public health can be summoned as "the science and art of preventing disease, promoting health and prolonging life through organized efforts in various manners and informed choices of society, organizations, public and private, communities and individuals. Here Morbidity refers to the unhealthy state of an individual, while mortality refers to the state of being mortal. Both concepts can be applied across a population or at the individual level. Where an increased in the healthcare cost is seen as the cost of drug development decreases the economic incentive to develop drugs with lower profit potentials, even those that could substantially benefit particular groups) or public health in general (eg, vaccines, antibiotics). Thus Antimicrobials are important in Human Medicine. But there is an increasing prevalence of antimicrobial resistance and that this resistance has clinical implications, therefore a need for mitigation efforts. Including awareness on the intake of food and drugs containing antimicrobial agents.
Ø Human health impact
Ø Increased healthcare costs
Ø Antimicrobials important in Human Medicine
Ø Increased human morbidity and mortality
Entrepreneur Investments Meet: Description
A key ingredient in successful entrepreneurship is self-knowledge. (Antimicrobes 2017) aims to bring together all existing and budding bio entrepreneurs to share experiences and present innovations and challenges in microbiological community. Each year, over a million companies are started in the world with about 5–10 of them classified as high technology companies. Turning ideas into business ventures is tricky and the opportunity-recognition step is critical in new venture creation. This gestalt in the entrepreneur's perception of the relationship between the invention and final product is refined into a business model that describes how the venture will make money or provide an appropriate return to the potential investors. Biological science is complex and rapidly changing and requires a specialized knowledge to understand the value of the innovation and its competitive position in the industry. Although life scientists are typically the founders of biotech companies, studies have shown that the most successful high tech startups are founded by a team of two to three individuals with mixed backgrounds, substantial industry experience and a very clear market and product focus at founding. This three day community-wide conference will be a highly interactive forum that will bring experts in areas ranging from structural microbiology to signaling pathways to novel therapeutic approaches to the scientific hub. In addition to our outstanding speakers, we will also showcase short talks and poster presentations from submitted abstracts. The speakers will discuss how microbes can be engineered to report using computational inputs from their local environment. This session will include combined efforts of cutting edge synthetic biology research to highlight the current state, challenges and future of engineered microbial communities.
Market Analysis Report
Summary: Antimicrobes 2018 welcomes attendees, presenters, and exhibitors from all over the world to Montreal, Canada. We are delighted to invite you all to attend and register for the "2nd Annual Summit on Antimicrobials and Drug Resistance" which is going to be held during September 24-25,2018 .The organizing committee is gearing up for an exciting and informative conference program including plenary lectures, symposia, workshops on a variety of topics, poster presentations and various programs for participants from all over the world. Here you will be sure to have a meaningful experience with scholars from around the world. All the members of Antimicrobes 2018 organizing committee look forward to meet you at Montreal, Canada.
Importance and scope
An antimicrobial is an agent that kills or inhibits the growth of microorganisms. The microbial agent may be a chemical compounds and physical agents. These agents interfere with the growth and reproduction of causative organisms like bacteria, fungi, parasites, virus etc. It deals with information about antibacterial, antifungal, antiviral, Anti-protozoal, anti-algal agents and their methods of detection, different therapies and advanced treatments to overcome diseases.
Antimicrobial Drugs are drug used to treat a microbial infection. Antimicrobial medicines can be grouped according to the microorganisms they act primarily against. Examples antibiotics, antifungals, antiprotozoal, and antiviral drugs.
Antimicrobial resistance is the developed in microbes to survive in the presence of a chemical (drug) that would normally kill them or limit their growth. Antimicrobial resistance makes it harder to eliminate infection from the body as existing drugs become less effective.
Antimicrobial research investigates the mechanisms of action and resistance to antibiotics as well as exploring the role of antibiotic resistance in the ability of pathogenic bacteria to cause infection.
Conference Highlights
• Antimicrobials
• Antimicrobial Resistance
• Antibacterial and antiviral drugs
• Antibiotic overuse: Worsen AMR problem
• Antimicrobial Chemotherapy
• Antimicrobial stewardship
• Antimicrobial Agents in Veterinary Medicine
• Antimicrobial agents in food and agriculture
• Microbial Pathogenesis
• Antibiotics for Emerging and Re-Emerging Disease
• Antimicrobial use in Pharmaceutical industries
• Global Antibacterial vaccination market
• Antibiotics: Technologies, Global Markets and Opportunities
• Public health
Why attend???
The primary objective of this meeting is to bring together researchers involved in antibiotic resistance prevention and control. The meeting will take an integrated approach to research and it will bring about researchers specializing in different subjects related to antibiotic resistance. We expected to present a universal vision of the importance of antimicrobial resistance in different ecosystems and what can be done about it. During diverse sessions, all aspects related to epidemiology of resistance in animal and zoonotic pathogens, mobile elements containing resistance genes, proteomics of antimicrobial resistance, emerging antimicrobial resistance mechanisms, control of resistant infections, antimicrobial resistance in animal pathogens and its exchange with humans, organizing antibiotic surveillance, policies to stimulate drug development and discovery and alternatives strategies to overcome the problem of antimicrobial resistance worldwide will be discussed.
Antimicrobes research, involves people from various disciplines and people form such various fields do not always get a chance to meet and discuss the current developments in their respective areas .Antimicrobes conferences seek to bring all such people together and thereby provide them a platform with which to discuss and exchange ideas with one another. The Antimicrobes conference is set to be graced by World-renowned speakers who will shed light on the most recent techniques, tactics, and the newest updates in Antimicrobials and Drug resistance Research
Market Analysis
Introduction
About antibacterial drugs
An antimicrobial is an agent that kills microorganisms or inhibits their growth. They are classified according to their mode of action on specific microorganism .Depending on the range of bacterial species susceptible to these agents antibacterials are classified as broad spectrum, intermediate-spectrum, or narrow- spectrum. Multidrug resistant (MDR) are those microbes which are resistant to multiple antimicrobials .Resistant microorganisms (compiling fungi, bacteria, parasites and viruses) have the ability to withstand effects of antimicrobial drugs.
Antibacterial drugs are chemical compounds used to treat infections caused by bacteria either by killing or inhibiting the growth of bacteria. The term antibiotic is often used synonymously with an antibacterial. However, antibiotics are agents that work against microorganisms such as bacteria, fungi, and parasites but are not effective against viruses. The term antibiotic was originally coined to refer to any compound of microbial origin, which is antagonistic to the growth of the microbe. Antibacterial acts via various mechanisms such as the inhibition of cell wall synthesis, the inhibition of nucleic acid synthesis, the disruption of the cell membrane, and the inhibition of protein synthesis. They can be bacteriostatic or bactericidal in nature, i.e., they either block vital processes in bacteria, kill the bacteria, or halt them from growing. Antibiotics that affect a wide range of bacteria are called broad-spectrum antibiotics (e.g., amoxicillin and gentamicin). Antibiotics that affect only a few types of bacteria are called narrow spectrum antibiotics (e.g., penicillin).
Global Antimicrobial Market
Global antibacterial drugs market
Antibacterial usage is expected to decrease slightly in developed countries as a result of an increasing pressure to combat antimicrobial resistance (AMR). Despite this, the antibacterial drug market is forecast to grow from USD27.7 Billion in 2015 to USD35.6 Billion in 2022, at a compound annual growth rate (CAGR) of 3.97%.
Global antibacterial vaccination market
Global antibacterial vaccination market is expected to experience healthy growth across the forecast period due to rising profits for several classes of drugs. Vaccines will still be the leading revenue-generating drugs in the market in 2022, despite the influx of new protein synthesis inhibitors and the release of several new cell-wall synthesis inhibitors.
Antibiotics: technologies and global markets provides an in-depth analysis of the global market trends for systemic antibiotics with data from 2012, estimated data from 2013, and projected data for 2018. Rising concerns over healthcare costs have driven many pharmaceutical companies to look for alternatives to maintain their existing profits while improving them in the future. The report includes the profiles and market shares of seven key players in the global antibiotics market.
GLOBAL ANTIBIOTICS MARKET BY REGION, THROUGH 2018
($ MILLIONS)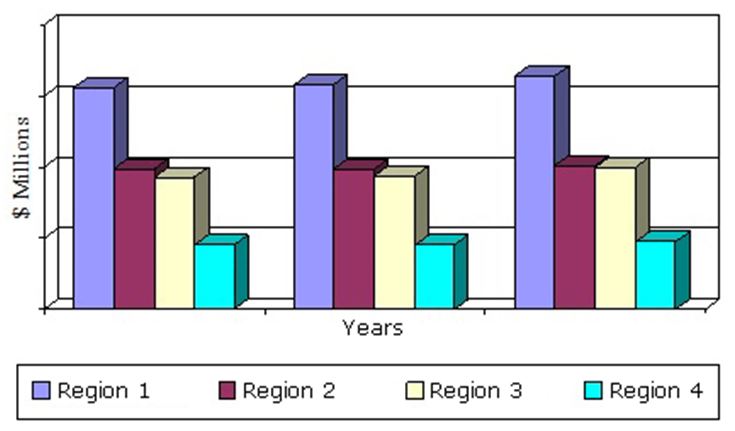 America Region

The antibiotics market was valued at USD 39.8 million in 2015 and is expected to witness a CAGR of 4.0% over the forecast period. Increasing efforts are being witnessed toward the development of advanced products. According to the data published by the Pew Charitable Trust, in March 2016, about 37 promising molecules were being investigated within the U.S. market. Majority of these, are in phase II clinical trials and are anticipated to hit the market between 2018 - 2020.

The antibiotics market is expected to reach USD 57.0 billion by 2024, according to the new report by Grand View Research, Inc. Rising prevalence of infectious diseases especially in developing regions such as Asia Pacific and MEA is anticipated to contribute towards market growth. North America dominated the animal antimicrobials and antibiotics markets. However, the market share of this region will decrease to 27%, primarily due to the regulatory ban on the use of antibiotics announced in the U.S. At the same time, Asia and Latin America are poised to grow at a CAGR of 6% to 8% in the forecast period; this growth is largely driven by the increased urbanization, rising disposable incomes, increase in the demand for animal products and the increasing trend of pet ownerships in these regions.

More than 15.0% of the deaths, in children below the age of five, are estimated to be due to pneumonia and according to the statistics provided by the WHO about 9.2 million deaths were recorded

Europe Region

Antibiotic resistance is a serious problem globally. New antibiotics to tackle resistant bacteria are urgently needed; however, a recent report from the European Centre for Disease Prevention and Control and the European Medicines Agency (EMA) warns of an almost empty pipeline, leaving patients vulnerable to dangerous infections. If new antibiotics are not developed, the entire healthcare industry could face challenges not seen since the pre-bacteria era. Public-private partnerships are encouraging specific programs that will address these needs; in certain regions, government agencies are working with the pharmaceutical industry to provide support to the declining antibiotic pipeline. "Development of novel antibiotics to combat multidrug-resistant strains, and targeting non-multiplying bacteria are expected to play a vital role in market growth,"

Asia pacific Region

The global market for systemic antibiotics is expected to grow to $41.2 billion by 2018 with a compound annual growth rate (CAGR) of 0.8% between 2013 through 2018. Asian countries account for the fastest-growing market with a five-year CAGR of 1.2% due to the increasing aging population, increasing GDP rate and increasing awareness about healthcare.

The global systemic antibiotics market is primarily driven by the aging population worldwide, the increasing prevalence of hospital-acquired infections, and the resultant increase in infectious disease and rising demand for novel antibiotics from the pharmaceutical industry.

Nevertheless, a major paradigm shift in the regulatory framework has caused a positive impact on the overall growth of the antibiotics market. Economic conditions and cost-containment issues have compelled North American and European antibiotic manufacturers to explore new regions, such as India, China and Brazil, for growth opportunities.

Middle East Region

The use of antimicrobial agents in food-producing animals has recently become a very important public health issue. The Middle-East & Africa market for anticoccidial drugs is estimated to grow from $163.1 million in 2015 to $218 Million by 2020 at a CAGR of 5.95% The Middle-East & Africa anticoccidial drugs market is classified based on various types of animals and by type of antibiotics.

The region, especially countries like Saudi Arabia and Egypt, has increased its reliance on antibiotics

AMR Universities around the Globe

· University of Dundee

· University of Bristol

· University of Birmingham

· University of Leicester

· University of Glasgow

· Washington University School of Medicine in St. Louis

· University of Hertfordshire

· University of Manchester

· University of Queenland

· University of south Carolina

Major Associations around the Globe

· Danish Society for Virology

· Pan American Society for Clinical Virology

· International Society for Antiviral Research .

· International Society for Influenza and Other Respiratory Virus Diseases

· International Society for Antiviral Research

· National Institute of Health(NIH)

· Cancer Research

· National Institute for Medical Research

· French Cancer Society (SFC)

Organizations working on Antibiotics around the Globe:

· Infectious Diseases Society of America

· World Health Organization

· U.S. Food and Drug Administration (FDA)

· Center for a Livable Future (CLF)

· Centers for Disease Control and Prevention (CDC)

· American Medical Association

· Animal Welfare Approved (AWA)

· Center for Food Safety

· Center for Science in the Public Interest (CSPI)

· Food Animal Concern Trust (FACT)

· The Humane Society of the United States (HSUS)

· The Pew Charitable Trusts

· Food and Water Watch

· Healthy Food Action

· Keep Antibiotics Working (KAW)

· Natural Resources Defense Council (NRDC)

· American Nurses Association

· American Public Health Association

· Institute of Medicine, National Academies of Science

· American Society for Microbiology

Funding Agiences

· British Society for Antimicrobial Chemotherapy

· US Department of Homeland Security,

· Bill & Melinda Gates Foundation,

· US National Institutes of Health,

· Princeton Grand Challenges Program.

· LEO Pharma.

Conclusion

The primary factor for any product or market to flourish is its demand. This demand is anticipated to increase due to the predicted rise in the incidence of infectious diseases across the globe over the forecast period, emerging infectious diseases, and the current gap in supply and demand of antibiotics.

Although AMR is a natural phenomenon, its development is accelerated by the misuse and overuse of antimicrobials. More rational use of antimicrobials aimed at ensuring existing drugs remain useful for longer by decelerating the pace at which pathogens develop resistance. Millions of people do not have access to the antibiotics and other antimicrobials they need, despite having curable infections. In addition to stewardship and access, many global strategies for addressing AMR focus on pharmaceutical innovation and the pipeline of antimicrobial.

References:


· https://www.bccresearch.com/market-research/pharmaceuticals/antibiotic-resistance-technologies-phm025b.html

· https://globenewswire.com/news-release/2017/02/16/917942/0/en/Global-Antibacterial-Drugs-Market-to-2022-Market-is-forecast-to-rise-from-around-27-1-billion-in-2015-to-35-6-billion-in-2022.html

· https://www.researchandmarkets.com/research/pbw973/global

· https://www.bccresearch.com/pressroom/phm/global-market-systemic-antibiotics-reach-$41.2-billion-2018

· http://www.fiercepharma.com/animal-health/2018-global-animal-antimicrobials-and-antibiotics-market-forecasts-by-products

· https://accesstomedicinefoundation.org/media/atmf/2017-Methodology-for-2018-Antimicrobial-Resistance-Benchmark-final.pdf

· https://books.google.co.in/books?id=_CE_SwUMAN0C&pg=PA239&lpg=PA239&dq=Middle+East+countries+antibiotic+market&source=bl&ots=yaJQ5Tl005&sig=56UxbuzcNz00gHgtntnPQeUEFNE&hl=en&sa=X&ved=0ahUKEwj26ubbsNTWAhXKRo8KHfPUBUk4ChDoAQgkMAA#v=onepage&q=Middle%20East%20countries%20antibiotic%20market&f=false

· http://www.birmingham.ac.uk/university/colleges/mds/news/2017/07/antibiotic-resistance-triclosan.aspx

· http://www2.le.ac.uk/news/blog/2017-archive/june/study-uses-bacteriophages-to-treat-livestock-as-an-alternative-to-antibiotics